Home »
Who We Are

»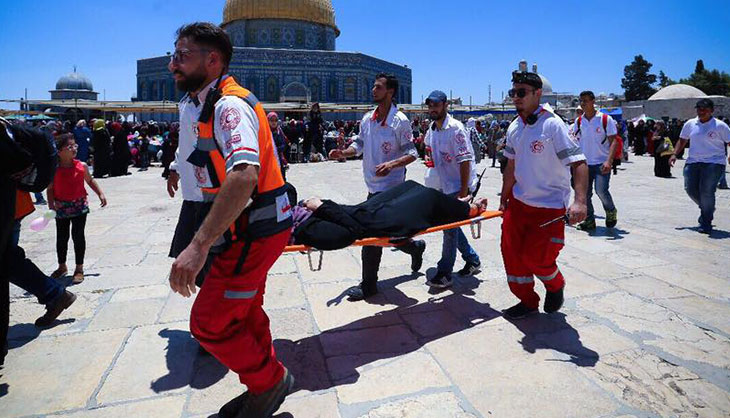 Executive Summary
The Society's 2019-2023 Strategy is the result of collective efforts by staff and volunteers in Palestine and the diaspora. It builds on lessons learned from the 2018 Strategy, fosters flexibility and promotes volunteers.
Operating in a multitude of countries under harsh conditions characterized by political instability, one of the Society's key objectives has always been to develop its humanitarian services during disasters and emergencies.
Since its establishment in 1968, PRCS has been catering to the health and welfare needs of Palestinians and all those in need with the help of its 4200 staff and 20 000 volunteers in the oPt (West Bank, including occupied Jerusalem, and the Gaza Strip) as well as in Lebanon, Syria and Egypt. The Society offers high-level health, social and cultural services, carries out comprehensive interventions, and disseminates humanitarian values, International Humanitarian Law and the Fundamental Principles of the International Red Cross and Red Crescent Movement.
The prolonged occupation of the oPt which is now in its 55th years, the lack of security and political stability, as well as climate change lead us to expect conditions on the ground to deteriorate. Humanitarian, health and social needs will grow; poverty, migration, displacement and insecurity will increase and so will Israel's oppression of Palestinians. As a result, Palestinians will require further protection and a stricter compliance with the Geneva Conventions is needed.
As it looks to the future, PRCS will continue to focus on emergency medical response, disaster preparedness and response, social and healthcare services, physical and psychosocial rehabilitation, protection, respect of IHL, and improving operational systems and procedures.
The Society's Strategy is hindered by the ongoing financial crisis and deteriorating humanitarian conditions in the oPt and in refugee camps in the diaspora, inter alia. Two additional Strategic Objectives have been developed to help overcome these challenges: enhancing and expanding the Society's partner network, and building the Society's organizational capabilities.
The 2019-2023 Strategy is in line with the Palestinian National Strategy and with IFRC Strategy 2030. It sets priorities and objectives for the coming five years in the fields of health, disaster response, social integration, protection, partnerships, management and developing the Society's Organizational Structure. Moreover, it outlines the programs, projects and operations to be carried out in the oPt and the diaspora. Periodic reporting as well as a mid-term review will help assess and monitor the implementation of the Strategy.